Junk Removal Services in Eola, IL
Sometimes, there are big junk removal jobs to be done even in small places like Eola, IL. Fortunately, Ace Junk Removal Pros won't overlook any community, so give us a call if you need our help.
FULL-SERVICE JUNK REMOVAL IN EOLA, IL
As people who live in Eola, IL know, it's a very tightly knit community. In fact, according to the 2010 Census, there were only a little over a hundred people living in Eola. Sometimes, you might even feel that a big junk removal company won't bother coming by to lend you a helping hand. However, that couldn't be farther from the truth. Ace Junk Removal Pros loves your neck of the woods, and that's why we offer professional junk removal services in Eola, IL.
When you need help in Eola, IL or another nearby DuPage County location, we can be there in no time! In fact, we even offer same-day and next-day appointments. So what are you waiting for? Don't just let your junk sit there—get rid of it for good by scheduling service now!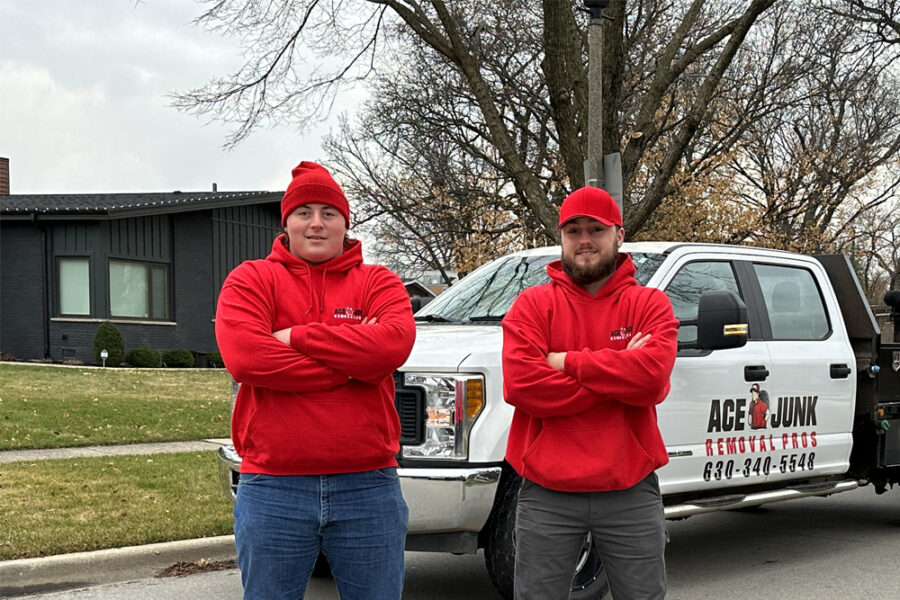 Why Our Junk Hauling in Eola, IL?
Nobody likes having to clean up their own clutter. It's a time-consuming process, and when you've already experienced a long day of work and chores, why would you want to do anything other than take a break? However, letting your junk just sit there isn't so great either. It takes up space, and it stresses you out whenever you look at it. Isn't there a way to get rid of junk in Eola, IL without having to remove it yourself? Of course there is! Just book junk removal services in Eola, IL from your friends at Ace Junk Removal Pros.
Where do you need us to be? Want us to remove residential junk from your home, such as clothes, toys, electronics, books, and trash? We'd love to help you. Additionally, we can also remove junk from businesses, barns, farmland, and other sorts of spaces. Just know that no matter the job, you'll always pay a fair price. That's thanks to our volume-based pricing model, which ensures the final cost correlates with how much junk we took off your hands.
If you need that junk out of your life for good, then why wait to get started? Ace Junk Removal Pros is prepared to serve you, so reach out to us and let us know where we can meet you! It's as simple as clicking Book Now and filling out our online contact form. Be sure to let us know what we can expect to haul away, as well as your preferred time and date for your appointment.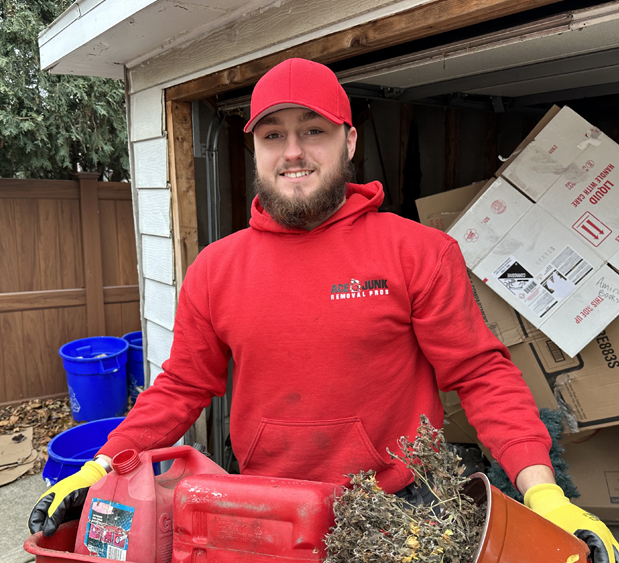 How Eola Junk Removal Works
When you receive our courtesy call, you'll know that we're fifteen minutes away from your location. We will see you shortly!
After you approve our upfront quote, our full-service team will get to work. We haul junk so you never have to.
It won't be long before all the junk has been loaded into our truck. We'll accept your payment once it is.
Finally, we will leave so we can handle the junk disposal process for you. Kick back and relax—your space is now clutter-free!
Furniture Removal Services in Eola, IL
Furniture can be awfully heavy. Because of this, once you've positioned it in your home, it will take a lot of convincing for you to ever remove it. However, as time passes, and your furniture ages and wears down, you will eventually grow tired of it. However, that doesn't mean you have to find a way to remove it on your own. Leave furniture removal to the heavy lifting champs at Ace Junk Removal Pros! We can haul away your chairs, tables, desks, sofas, and entertainment centers with ease.
We understand that it's not always easy to guide big, bulky furniture items through tight doorways and halls. However, we can make it happen. We'll keep a firm grip on the furniture and rotate it when necessary. With care and caution, we'll get that furniture out your front door without ever once scuffing one of your walls. Afterwards, if your furniture is in good condition, we can even donate it. It will look great alongside the rest of the donated furniture at the Habitat for Humanity ReStore!
About Us
When you have a tough junk removal job, why wouldn't you trust the pros to do it for you? As our name implies, at Ace Junk Removal Pros, we're nothing short of professional. We're hardworking haulers that have cleaned out all kinds of properties, and we're also friendly people from your community who want to make you smile. So choose us, and not only will we provide you with pleasant service, but we'll also give you a good deal on the junk removal you need. Never pay hidden fees at a "big box" business again!
REVIEWS
Really effective. We reached All American hauling a couple of days before removing some walls in our workshop and they responded back immediately. They removed all our demo within an hour or so ( approx 45 yards), and they are very professional. I would definitely contact them in the future if I need to, and will definitely recommend them to anyone that needs their service

Great Company, the owner was quick and responsive. pricing was fair and accurate. The crew that showed up was polite and professional. They left the area cleaner than before I made the mess. I have used them about 5 time now. They deserve 10 stars.

Couldn't have asked for a faster, easier process or a better value! I was even picky with my schedule and it wasn't a problem at all. I spent several days going back and forth with other companies trying to align on a price and time – I should have called All American Hauling from the start! Do yourself a favor and call now.

I highly recommend All American Hauling. I have used their services a number of times over the last year and they are alway on time, efficient and they have the best hauling/junk removal rates in the Bay Area. Brian and his team will be my go-to junk removal company for any future needs. Cheers, Patrick

When I first reached out to Bryan, he got back to me nearly immediately and told me his crew could absolutely handle the job I had requested. Within just a few days, they were at my door, ready to work. They showed up on time, were completely professional, and were quite efficient. I couldn't be happier with the work (and cleanup!) they did! Even my neighbors told me that, with their back sliding doors open, they were not bothered by noise at all. Thank you so much for a job well done!

We've used All American Hauling for many years – always responsive, courteous, safe, and professional. Quality service with great pricing.

From the first phone call to the big haul, Bryan and the crew delivered top-notch service. I did a tear down of my garage and a fence, and needed someone to haul it all away. I'm glad I called these guys. They were straightforward with their pricing and scheduling. They got me on their calendar right away and on the day of the haul, the crew came in and cleaned up all of the demolition debris in a little over an hour. This is a company that is reliable, no-nonsense, and really easy to work with. I highly recommend.rn

Bryan and his crew were amazing. Prompt, responsive, excellent clean up and great team work. They hauled off an old hot tub with ease, a pile of lumber, concrete and an ancient home made ladder. Their pricing is very reasonable and not only would I highly recommend Bryan & his team. I will hire them again! Great company with outstanding service

Bryan and crew did a massive real estate cleanout for my family. He was also able to demo our deck, gazebo and jacuzzi tub. No other hauler or junk company could take on the project. His trucks are also about double that of most of his competition making the job faster and a better value for the money.

I've used Bryan and his crew for several progressively difficult jobs over the last year and I remain impressed with the skill, professionalism and pricing of All American Hauling. I started out with small debris hauling jobs, but they've graduated to demo'ing my kitchen before a remodel and grading my front yard. I highly recommend them.