Junk Hauling in Lemont, IL
Lemont, IL is one of the most beautiful locales in the state. Let's keep it that way: contact Ace Junk Removal Pros for all things junk hauling!
Need Junk Removal in Lemont, IL?
There's something just so quaint about the little village of Lemont, IL. It might be the tranquil scenery; it might be the friendly, bustling community; or it might be The Forge Adventure Park, with its many ziplines sure to give you a rush. Whatever it may be, one thing is for certain: Lemont, IL is a great place to live. However, it only takes a little bit of junk on your property to make the quality of life in Lemont tank like an anchor. That's where Ace Junk Removal Pros comes in; we're taking your life back from the trash!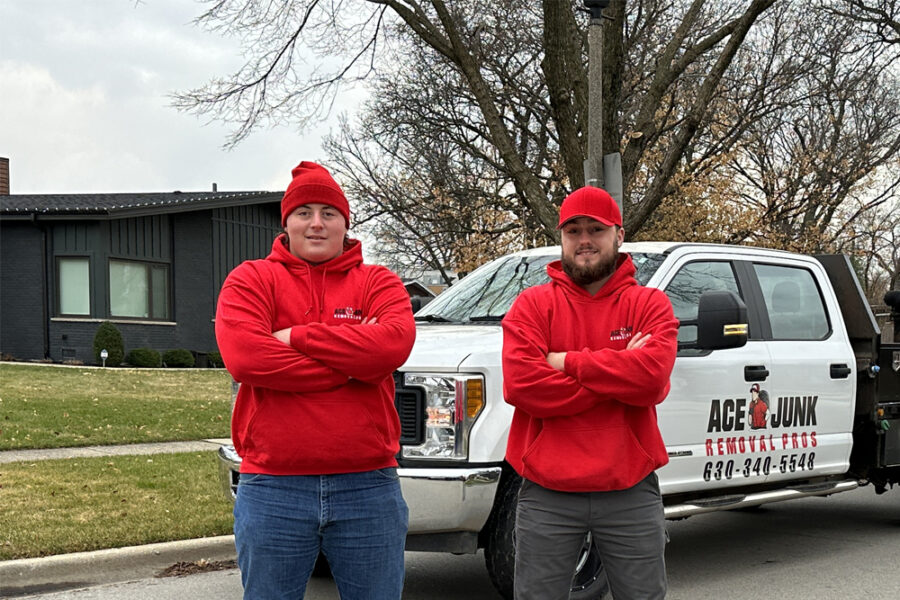 Why Choose Ace Junk Removal Pros?
Junk hauling is many things, so let's talk about what it isn't. Junk hauling isn't easy labor. Junk hauling isn't for those with a weak stomach. And junk hauling most definitely isn't something to try alone. Taking out the trash every Sunday might be simple enough, but when your junk includes materials like broken glass, large furniture or appliances, or chemical hazards, things get a lot more complicated. Don't worry yourself trying to figure it all out; Ace Junk Removal Pros can take care of everything at your behest!
So, what makes junk removal services from Ace Junk Removal Pros different from any other run-of-the-mill hauling crew? For one, we're not only quick, but we're efficient, too. We don't mince words or waste time when we're on the clock. We get in and get out, taking every piece of junk we find with us. For two, our services are catered to your specifications and yours alone. Whenever you want us, you've got us, and whatever you want us to haul, we'll do it—no questions asked. Finally, for three, we make payment as painless as possible. Our upfront quotes ensure you're never blindsided by a bill, and with our volume-based pricing system, you pay only for what is taken and nothing more.
If you need junk removal in Lemont, IL, there are many options, but the best will always be Ace Junk Removal Pros!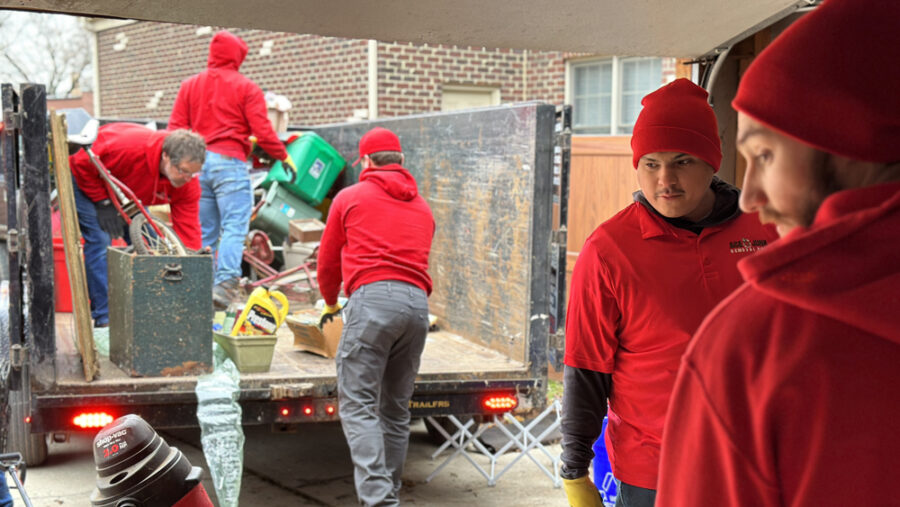 The Average Junk Removal Process
It all starts with some initial contact. Call us at 630-340-5548 or use our website's booking system to set up an appointment at any time. Our schedule is your schedule, so don't worry about compromising your weekly plans for our services.
On the day of your appointment, we'll shoot you a phone call to let you know when we're on our way. Within 2 hours of said call, we should be there. Once we've arrived, we'll assess the situation and give you an upfront estimate of how much the job will cost. That's right: no surprise fees from us!
This is the easy part—for you, that is. For us, it'll be time to get to work. With speed and delicacy, we'll apprehend the offending junk and seat it comfortably in the back of our truck. We hope to see a big smile grow on your face as the junk that's been troubling you disappears before your very eyes!
When all's said and done, we'll go over the payment, shake hands, and then go our separate ways. If all goes well, you should consider recommending Ace Junk Removal Pros to your friends and family in the area; we would love to give them the same treatment we gave you!
Furniture Removal in Lemont, IL
Live in Lemont, IL and need an old couch taken care of? What about a recliner that's old as dirt, or a dresser two seconds from falling apart? Despair no longer: Ace Junk Removal Pros can handle things from here! Our furniture removal services are among the most popular with our Lemont clients. After all, the average joe can easily toss out some trash bags, but a chunky sofa rife with rusty springs? That takes a team effort. Luckily, our hauling crew consists of trained professionals each with years of junk removal experience under their belts. If there's anyone to trust with such a heavy job, it'd be us!
About Us
Here at Ace Junk Removal Pros, we pride ourselves on a few things: professionalism, of course, is one of those things. Even on our worst days, you'll never see a member of our team mistreat you or any of our clients. After all, just because we deal with trash doesn't mean we need to have a garbage attitude!
Ace Junk Removal Pros is a locally owned and operated business, so we know the ups and downs that come with the territory. That's why we're committed to not only serving residential areas, but other local businesses as well! If you need junk removal or scrap pickup on your commercial property, by all means, give us a call! We'll be there with greased hands and eager smiles.
Above all else, Ace Junk Removal Pros is committed to quality service. We will always strive to do a good job, because if a job isn't done well, then was it worth doing at all?
REVIEWS
Really effective. We reached All American hauling a couple of days before removing some walls in our workshop and they responded back immediately. They removed all our demo within an hour or so ( approx 45 yards), and they are very professional. I would definitely contact them in the future if I need to, and will definitely recommend them to anyone that needs their service

Great Company, the owner was quick and responsive. pricing was fair and accurate. The crew that showed up was polite and professional. They left the area cleaner than before I made the mess. I have used them about 5 time now. They deserve 10 stars.

Couldn't have asked for a faster, easier process or a better value! I was even picky with my schedule and it wasn't a problem at all. I spent several days going back and forth with other companies trying to align on a price and time – I should have called All American Hauling from the start! Do yourself a favor and call now.

I highly recommend All American Hauling. I have used their services a number of times over the last year and they are alway on time, efficient and they have the best hauling/junk removal rates in the Bay Area. Brian and his team will be my go-to junk removal company for any future needs. Cheers, Patrick

When I first reached out to Bryan, he got back to me nearly immediately and told me his crew could absolutely handle the job I had requested. Within just a few days, they were at my door, ready to work. They showed up on time, were completely professional, and were quite efficient. I couldn't be happier with the work (and cleanup!) they did! Even my neighbors told me that, with their back sliding doors open, they were not bothered by noise at all. Thank you so much for a job well done!

We've used All American Hauling for many years – always responsive, courteous, safe, and professional. Quality service with great pricing.

From the first phone call to the big haul, Bryan and the crew delivered top-notch service. I did a tear down of my garage and a fence, and needed someone to haul it all away. I'm glad I called these guys. They were straightforward with their pricing and scheduling. They got me on their calendar right away and on the day of the haul, the crew came in and cleaned up all of the demolition debris in a little over an hour. This is a company that is reliable, no-nonsense, and really easy to work with. I highly recommend.rn

Bryan and his crew were amazing. Prompt, responsive, excellent clean up and great team work. They hauled off an old hot tub with ease, a pile of lumber, concrete and an ancient home made ladder. Their pricing is very reasonable and not only would I highly recommend Bryan & his team. I will hire them again! Great company with outstanding service

Bryan and crew did a massive real estate cleanout for my family. He was also able to demo our deck, gazebo and jacuzzi tub. No other hauler or junk company could take on the project. His trucks are also about double that of most of his competition making the job faster and a better value for the money.

I've used Bryan and his crew for several progressively difficult jobs over the last year and I remain impressed with the skill, professionalism and pricing of All American Hauling. I started out with small debris hauling jobs, but they've graduated to demo'ing my kitchen before a remodel and grading my front yard. I highly recommend them.