Junk Removal Services in Joliet IL
Same Day Junk Removal in Joliet!
Hauling Services in Joliet
Joliet, IL is a bustling city rich in history and culture. Films such as The Blues Brothers have been partially shot here, and we're also home to the iconic NASCAR Chicagoland Speedway! There's never a shortage of things to do and see in Joliet! Amidst all this bustle, there's one thing nobody should ever have to waste time doing, and that's dealing with junk. Fortunately, there's a solution when you need junk removal services in Joliet IL.
The local professionals at Ace Junk Removal Pros are here to help you! With fast and affordable services, our team will have your space cleared out in no time! Worry no more as we load and haul your junk away. Contact us today for your free estimate!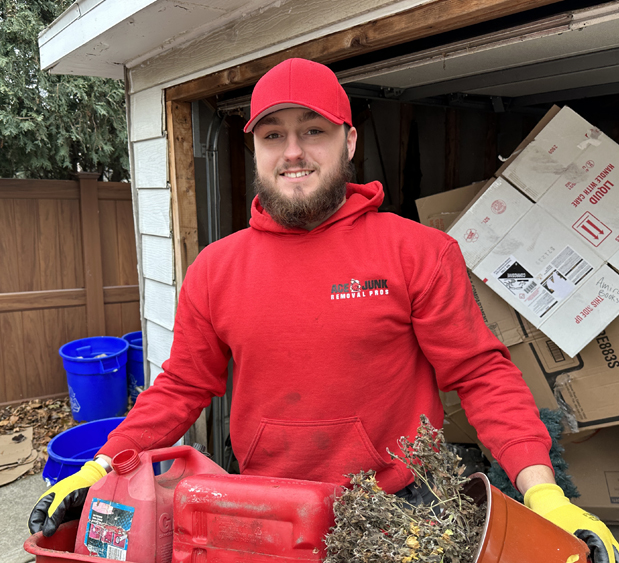 Why Ace Junk Removal Pros in Joliet?
With roots dating back all the way to the 1600s, Joliet has been on the map for hundreds of years. Everyone who lives and works here today is sure to say we'd love to be on the map for hundreds of years to come, as well! At Ace Junk Removal Pros, we do our best to keep your Joliet property looking pristine. With multiple junk removal services, our team is sure to have your home or business looking its best in no time! We haul away junk of all sizes quickly and affordably. There's no need to worry about junk removal cost with our volume-based pricing system. Our costs are based on how much junk you want us to haul, so they always scale fairly! Next time you wonder "Is there a high-quality junk removal service near me?" remember Ace Junk Removal Pros is the answer!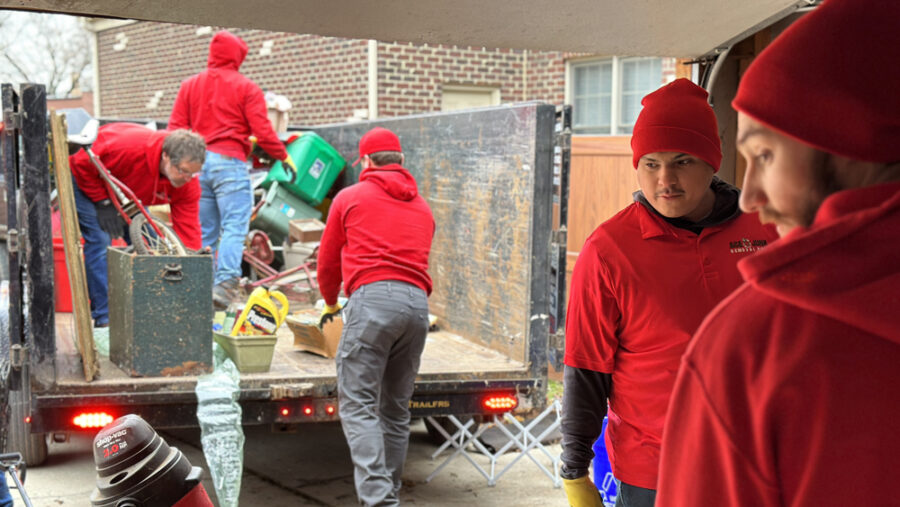 Our Junk Removal Process
Have you ever thought "I wish somebody else could remove my junk"? If you have, then we have good news, because the answer is "yes!" Ace Junk Removal Pros is happy to help you, and all you have to do to get started it get in touch! You can contact Ace Junk Removal Pros by phone, via e-mail, or by using our online contact form! We'd love to hear from you and get a feel for your junk problem. Simply give us as many details as you can, and we'll provide a free cost estimate. If you like what you hear, we'll book your time slot. We are often able to serve you with same- and next-day appointments!
During your time slot, our team will give you a courtesy call to let you know we're on the way! Once we've arrived on your property, just show us the junk and we'll give you a final, firm quote for service. Our prices are volume-based, which means they always scale fairly and predictably. After you've given us the okay, we'll get to work!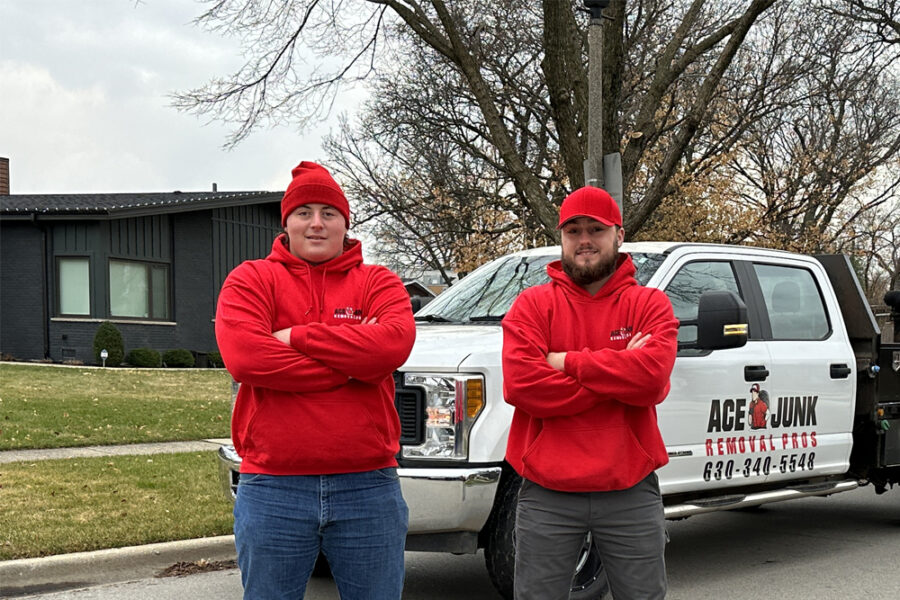 Joliet Junk Hauling Experts
Feel free to put your feet up while our team takes care of all the hard work! Ace Junk Removal Pros brings the muscle every time, so we'll handle all lifting and loading! We always make sure to handle with care, and when we're done we'll give your space a sweep to leave it looking great!
Your last step is settling the bill with us! After payment is squared away, we'll haul your junk away for good and take care of all disposal. We pride ourselves on eco-friendly practices, and pledge to keep as much of your junk out of a landfill as possible!
Bed Frame Removal in Joliet
From simple metal frames to ingenious methods of hidden storage, the bed frame is one of the largest furniture pieces in any bedroom, and depending on the size of your mattress, it could even be the biggest piece of furniture in the house! This is because bed frames need to be built in the most sturdy way possible to hold up the weight of a box spring, mattress, and potentially multiple occupants. All that bulk is usually a net positive, but not when it comes time to get rid of that old bed frame. Ace Junk Removal Pros is here to get rid of your old bed frame! Our full-service furniture removal includes bed frames, which will be lifted, loaded, and hauled away with ease! Contact us today to quickly and easily dispose of that bed frame and any other furniture you to get out of the way!
About Us
Headquartered in Naperville, IL, Ace Junk Removal Pros is a team of local junk experts ready and waiting to help with your next junk removal project! We are happy to help neighboring areas with their junk woes and excited to offer our junk removal services in Joliet IL! Our team has experience hauling everything from refrigerators to mattresses and everything in between! Whether it's one bulky item of a whole house full of junk, Ace Junk Removal Pros have a plan to get it done! When you need junk removal services in Joliet IL, call the Pros!
REVIEWS
Really effective. We reached All American hauling a couple of days before removing some walls in our workshop and they responded back immediately. They removed all our demo within an hour or so ( approx 45 yards), and they are very professional. I would definitely contact them in the future if I need to, and will definitely recommend them to anyone that needs their service

Great Company, the owner was quick and responsive. pricing was fair and accurate. The crew that showed up was polite and professional. They left the area cleaner than before I made the mess. I have used them about 5 time now. They deserve 10 stars.

Couldn't have asked for a faster, easier process or a better value! I was even picky with my schedule and it wasn't a problem at all. I spent several days going back and forth with other companies trying to align on a price and time – I should have called All American Hauling from the start! Do yourself a favor and call now.

I highly recommend All American Hauling. I have used their services a number of times over the last year and they are alway on time, efficient and they have the best hauling/junk removal rates in the Bay Area. Brian and his team will be my go-to junk removal company for any future needs. Cheers, Patrick

When I first reached out to Bryan, he got back to me nearly immediately and told me his crew could absolutely handle the job I had requested. Within just a few days, they were at my door, ready to work. They showed up on time, were completely professional, and were quite efficient. I couldn't be happier with the work (and cleanup!) they did! Even my neighbors told me that, with their back sliding doors open, they were not bothered by noise at all. Thank you so much for a job well done!

We've used All American Hauling for many years – always responsive, courteous, safe, and professional. Quality service with great pricing.

From the first phone call to the big haul, Bryan and the crew delivered top-notch service. I did a tear down of my garage and a fence, and needed someone to haul it all away. I'm glad I called these guys. They were straightforward with their pricing and scheduling. They got me on their calendar right away and on the day of the haul, the crew came in and cleaned up all of the demolition debris in a little over an hour. This is a company that is reliable, no-nonsense, and really easy to work with. I highly recommend.rn

Bryan and his crew were amazing. Prompt, responsive, excellent clean up and great team work. They hauled off an old hot tub with ease, a pile of lumber, concrete and an ancient home made ladder. Their pricing is very reasonable and not only would I highly recommend Bryan & his team. I will hire them again! Great company with outstanding service

Bryan and crew did a massive real estate cleanout for my family. He was also able to demo our deck, gazebo and jacuzzi tub. No other hauler or junk company could take on the project. His trucks are also about double that of most of his competition making the job faster and a better value for the money.

I've used Bryan and his crew for several progressively difficult jobs over the last year and I remain impressed with the skill, professionalism and pricing of All American Hauling. I started out with small debris hauling jobs, but they've graduated to demo'ing my kitchen before a remodel and grading my front yard. I highly recommend them.