Junk Removal Services in Woodridge, IL
If it's junk hauling services you need, then you need to get in touch with Ace Junk Removal Pros, a locally owned and operated business near you. Our professionals are gearing up to serve you in Woodridge, IL so that you're never the one that winds up removing that junk from your property. Leave it to us!
FULL-SERVICE JUNK REMOVAL IN WOODRIDGE, IL
What does a day in the life of a Woodridge, IL resident look like? That ultimately depends on the person, but it could consist of visiting Lake Harriet Park, doing chores at home, handling important business at work, and hanging out with family at the end of the day. However, you won't have as much time for these things if you're stuck with a junk removal project. So instead of resorting to do-it-yourself tactics, try out professional junk removal services in Woodridge, IL. You'll be glad you did when you watch our experts haul your trash away!
Residents will benefit from our services because we can seriously clean up household space. Additionally, businesses will like what we have to offer too since any company can operate better without clutter! At the end of the day, we want to take your waste off your hands, so what are you waiting for? Contact us now, then see us shortly afterwards!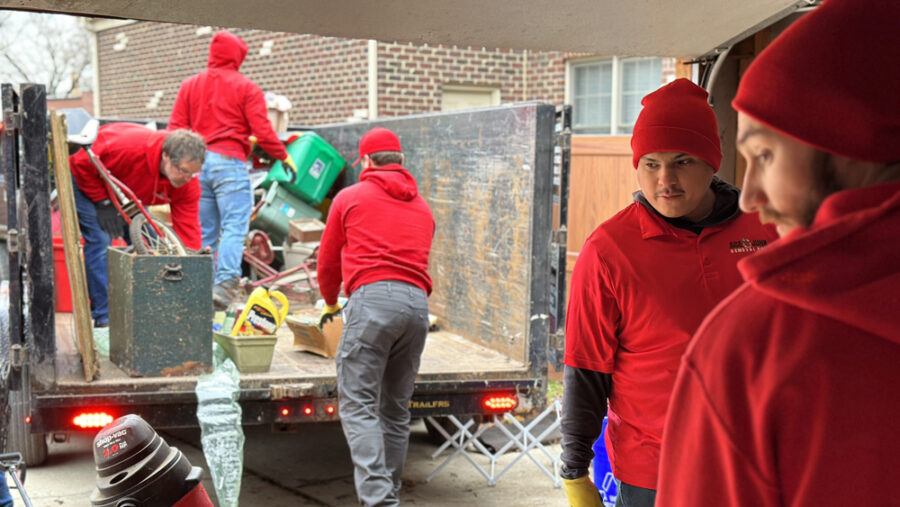 Why Our Woodridge Hauling Services?
Has a missed trash collection day left you scrambling for a solution? A junk pick up is often best left to the professionals because your typical Woodridge resident can only do so much. A single individual can't lift heavy furniture on their own, and they can't handle a big clean out job without it taking several days, if not weeks. You only have so much time and energy to spare, so let us lend you some of ours! That way, you can take a seat and enjoy a cold drink while our full-service experts handle the tough junk removal work on your behalf. It's the best way to make your life in Woodridge easier and less stressful!
If you are looking for low prices, then let's make a deal! Our junk removal prices in Woodridge, IL are pretty simple because they work off a straightforward volume-based scale. We'll simply determine how much truck space your junk will use up, then decide what you'll owe us accordingly. Small jobs and big jobs all receive a fair price this way, and we'll provide you with an upfront quote so you don't have to worry about your wallet all the way to the end of your appointment.
For those of you out there who need junk removal services in Woodridge, IL as soon as possible, we've got good news for you. Contact us today, and you can grab a same-day or next-day appointment window! That way, we can be there almost immediately to remove that unwanted clutter from your life. Click Book Now to access our contact form and request service today!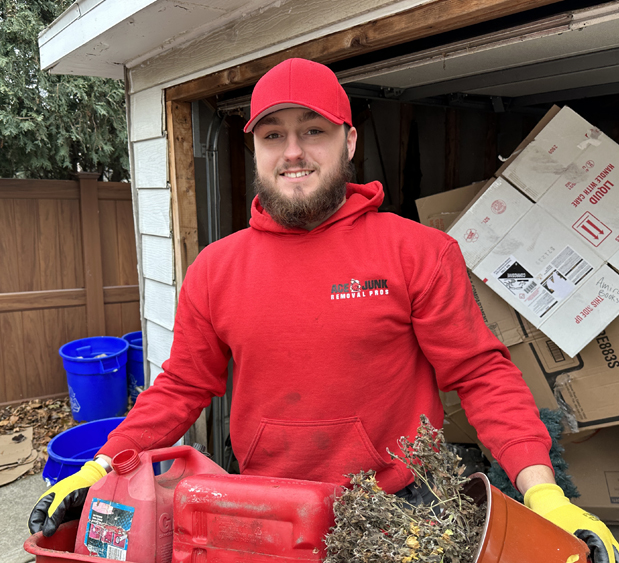 How Woodridge Junk Removal Works
As with all our appointments in all our service areas, we'll be there right on time, excited to be at your service. We're always there during the 2-hour arrival window.
We'll provide you with an upfront service quote so you know what you'll owe us for our work before we've even started hauling your junk away.
Our team works quickly to load up the back of the truck, then doubles back and ensures they didn't forget anything. We are thorough and fast!
Finally, we will confirm your satisfaction, accept your payment, and leave so we can promptly dispose of the junk!
Appliance Removal in Woodridge, IL
If your arms turn into gelatin the moment you attempt lifting up an old appliance, then chances are, you're going to need a helping hand. You can receive those helping hands from Ace Junk Removal Pros, the team that's prepared to serve you whether your appliance is at home or at work. From household refrigerators to restaurant equipment, from washers and dryers to dishwashers and more, we can remove your appliances without our arms ever becoming limp. We'll carefully guide the appliance out your door and onto our truck, then take it away to be recycled. We are an eco-friendly business, so we strive to avoid the landfill whenever possible.
About Us
Ace Junk Removal Pros is a locally owned and operated business that does junk removal with a friendly vibe, so if you're looking for a team that has a soul, you'll find it with us! We're always treating our neighbors with kindness because isn't that what everyone deserves? Plus, with our affordable prices, your wallet will be feeling respected as well. So get the savings you deserve fast. Contact us today, schedule junk removal services in Woodridge, IL, and see what makes us better than the competition for yourself.
REVIEWS
Really effective. We reached All American hauling a couple of days before removing some walls in our workshop and they responded back immediately. They removed all our demo within an hour or so ( approx 45 yards), and they are very professional. I would definitely contact them in the future if I need to, and will definitely recommend them to anyone that needs their service

Great Company, the owner was quick and responsive. pricing was fair and accurate. The crew that showed up was polite and professional. They left the area cleaner than before I made the mess. I have used them about 5 time now. They deserve 10 stars.

Couldn't have asked for a faster, easier process or a better value! I was even picky with my schedule and it wasn't a problem at all. I spent several days going back and forth with other companies trying to align on a price and time – I should have called All American Hauling from the start! Do yourself a favor and call now.

I highly recommend All American Hauling. I have used their services a number of times over the last year and they are alway on time, efficient and they have the best hauling/junk removal rates in the Bay Area. Brian and his team will be my go-to junk removal company for any future needs. Cheers, Patrick

When I first reached out to Bryan, he got back to me nearly immediately and told me his crew could absolutely handle the job I had requested. Within just a few days, they were at my door, ready to work. They showed up on time, were completely professional, and were quite efficient. I couldn't be happier with the work (and cleanup!) they did! Even my neighbors told me that, with their back sliding doors open, they were not bothered by noise at all. Thank you so much for a job well done!

We've used All American Hauling for many years – always responsive, courteous, safe, and professional. Quality service with great pricing.

From the first phone call to the big haul, Bryan and the crew delivered top-notch service. I did a tear down of my garage and a fence, and needed someone to haul it all away. I'm glad I called these guys. They were straightforward with their pricing and scheduling. They got me on their calendar right away and on the day of the haul, the crew came in and cleaned up all of the demolition debris in a little over an hour. This is a company that is reliable, no-nonsense, and really easy to work with. I highly recommend.rn

Bryan and his crew were amazing. Prompt, responsive, excellent clean up and great team work. They hauled off an old hot tub with ease, a pile of lumber, concrete and an ancient home made ladder. Their pricing is very reasonable and not only would I highly recommend Bryan & his team. I will hire them again! Great company with outstanding service

Bryan and crew did a massive real estate cleanout for my family. He was also able to demo our deck, gazebo and jacuzzi tub. No other hauler or junk company could take on the project. His trucks are also about double that of most of his competition making the job faster and a better value for the money.

I've used Bryan and his crew for several progressively difficult jobs over the last year and I remain impressed with the skill, professionalism and pricing of All American Hauling. I started out with small debris hauling jobs, but they've graduated to demo'ing my kitchen before a remodel and grading my front yard. I highly recommend them.